Does my home condition really matter when selling?
Condition Matters (most of the time)! When there is only one house on the market and 10 buyers, the seller will have a sale in no time, no matter the condition of the property. When there are 8 houses on the market and 10 buyers, buyers have more options to consider before making a decision, therefore, the condition of the property truly matters, especially when the seller is looking to make a quick sale. We are best equipped to advise you on the competition in your area and how you can get your property sold quickly.
Does staging really help?
Staging is effective. Think of it as model home syndrome, whenever you go look at model homes, they are staged just right to make you ooh and ahh. Buyers are likely to remember a beautifully staged home before they will remember a home that has not been shown in its best light. We need to make those impressions count! If we are on a budget, we can keep costs down by simply rearranging, cleaning and decluttering. If you have not touched an object in 30 days, pack it up and remove it. Don't believe me, the numbers speak for themselves!
Compared to non-staged houses, on average, staged houses had 3 more showing scheduled, were on the market for 11 fewer days, and sold for list price or 1% higher.
Again, every selling situation is different but being armed with the numbers, is helpful when it comes to selling your home.
I should list for higher to negotiate down to what I really want, right?
Here is my philosophy on why price matters! I study the real estate market every day and can provide you with a range of values for your home. This is referred to as market price, that is, the price the market will bear. We study similar homes in the same or nearby neighborhoods that have sold in the last 6 months to determine an accurate range. These are referred to as comps or comparable homes similar to yours. The price of your home is not determined by what you paid, by what your bottom line is, what Zillow said, or by what your neighbors said.
I always say to avoid the temptation to price high just to see if you get any takers. Approximately 22% of sellers reduced their price within one month of putting it on the market. Why? Because it was not competitive with similar properties for sale. Trust me when I say – the market determines the price and will advise you on a suggested listing price point.
I own a home, should I sell before I buy the next home?
There is truly no concrete "correct" answer to this question. There are pro's and con's to buying a home before selling your current home and the same can be said about selling your current home before buying another.
The biggest benefit to buying a home before selling your current home is the fact that you have a suitable property lined up and you do not have to worry about what to do with the kids, dog, grandma – whatever, when your home in on the market. This can also reduce the stress and pressure of having to find a home once your current home is sold. This however, can be expensive – having 2 mortgages, and can also create disappointment and heartbreak.
If you are unable to purchase a new home without having to sell your current home, you're purchase offer is going to be contingent upon the sale and transfer of title of your current home. If your current home does not sell in a timely manner, this can lead to you getting "bumped" by a non-contingent buyer and you losing out on the home you're looking to purchase, which can be devastating.
Now for the flip side, selling your current home before purchasing your new home. The time it takes to sell your current home is unpredictable. There is no crystal ball that exists that can tell you exactly how many days it will take. Selling your current home before buying a new home will put you in an ideal position to negotiate on the new home you're purchasing due to the fact you are purchasing without the sale contingency of your current home.
One risk of selling your current home without buying a new home first is the chance of not being able to have a place to live. There are options if your current home sells before buying another though. A "rent-back" can sometimes be negotiated with the buyer of your current home. A "rent-back" would allow you to retain possession of your current home for a certain number of days after closing at the expense of paying the buyers mortgage. A "rent-back" allows for additional time to find a new home.
Do I really need a Realtor?
Yes, yes, and yes! I have said it before and I will say it again, I am not a salesperson, I AM YOUR ADVOCATE. My job is to listen to what you need, protect your interests, and provide guidance throughout the process. I know it is easy to get wrapped up in HGTV and Million Dollar Listing, trust me, I want to be those characters as well, but please know, I do more than just open up doors for you.
Our knowledge of the contract, the market, and the lending space really keeps your best interest a top priority. Getting you from the 'opening of escrow' to 'closing day' is where our expertise shines! Plus, as a buyer, many times the seller is paying for my services. You do not owe me a dime when purchasing your home.
What is an ibuyer?
The I buyer, simply put, is an internet buyer. Meaning, they are typically a company that makes an offer to purchase your home, sight unseen. They purchase the home for cash and allow the seller to choose the date of closing.
A big key point to make here, is they still do an inspection and ask for repairs, this is NOT and as-is purchase. This process is quite simple for the seller and does alleviate some of the stresses that can take place during the process.
However, and this is a big however, I have seen seller lose tens of thousands of dollars on the table when they have sold to an ibuyer due to the fees that are charged, repairs that are requested, and below market value given for the home.
I can help navigate an ibuyer home sale, so always call me first before heading down that path.
Should I accept a last minute showing request?
I know that a last minute anything is stressful!  Having your home available for showings is key when it comes to selling your home.  Below is a handy checklist for when you have 10 minutes to prepare and when you have an hour to prepare.
But before you read that, a little story

.  I had a showing request once when it was a very inconvenient time for my seller.  They were right in the middle of cooking dinner for their family, 3 children under the age of 5.  She was distraught but said yes, and with conviction – 'they will just need to deal with what is going on over here.'  I let the buyer's agent know, the seller would be there and preparing dinner for the family.  Well, guess what, those buyers put an offer in on that home. More importantly, one of the reasons why was because they too had small children and they could picture everything that would be taking place for them, and fell in love.  You just never know!
Now for those Checklists –
You Have 10 Minutes to get the home ready –
Panic! Okay, now check that off the list.  You're already making progress.
Make the Beds
Grab a laundry basket – throw all of the clutter into it and the put the basket in your car (you will sort when you get back)
Empty all garbages into a garbage bag and take out
Put up those show towels
Close all the toilet seats
Wipe down all the countertops and sinks with a damp cloth
Turn on all lights in the house
Open all the blinds
You Have an Hour to get the home ready –
Do everything on the 10 minute list
Vacuum all carpeted areas
Sweep  all hard surfaced floors/spot mop sticky areas
Use cleaner/vinegar and water to clean all glass and mirrored surfaces
Give the toilets a scrub
Clear the kitchen countertops as much as possible, all dirty dishes put in the dishwasher, soaps and scrubbers under the sink
Give kitchen cupboards a quick wipe down
Laundry should be folded and put away – if you don't have to deal with it – chuck it into a laundry basket and put it in your car.  Hopefully you don't have your kids gym shorts in there!
Sweep the front doorway and mat
You did it!  Now go have a coffee or glass of wine and relax!  I know selling a home can be stressful but all of these little things will add to your bottom line!
What factors help determine market price?
Please listen when I say – ZILLOW and your neighbor does not determine the price of your home!  There are 5 key areas that I look at when helping my sellers determine the market price.
First and foremost, the price/sale of comparable homes in the neighborhood. I will thoroughly look over the past 6 months of homes that have sold in the same neighborhood.
This will then lead into the second key area which is price per square foot. When pulling comparable homes, we will look at the sold price per square foot, not the listed price per square foot.
The third area, and probably my favorite, the upgrades and updates of the home! What updates have been done to the home since you have owned it. One area of caution I like to mention when we look at upgrades…. What are the common features of the home in the area?  If most of the homes have granite and you choose to put in a highly upgraded granite, that will not necessarily bring you more money.  It may be the deciding factor between 2 homes, however.

New systems that have been replaced throughout the home, ie, roof, a/c, and water heater –  are definitely added value features when determine market price.  Do you have an owned solar system on the roof?  A potential buyer may be willing to pay more if they know that their electric bills will be lower due to this energy saving feature.

The fourth key area is the lot, location within the development and exterior improvements. Do you have a pool?  Do you back to a major road or a pass through street?  Have you done any major improvements to the exterior of the home?  These are all items that will either add value or decrease the value of your home.
The fifth key area, and really, one of the most important items is market condition. There is always a possibility that the market can shift while a home is listed, and we want to be prepared for that.  The longer the home sits on the market, the more susceptible it is to the shift.  That is why I suggest to avoid the temptation to price high just to see if you get any takers.
The other factor when it comes to market condition, is what is your selling situation.  Do you need to sell quick?  Are you able to make repairs and prepare the home for the market?  Do you need to sell to purchase another home?  All of these areas help us determine the market price.
You're just a Realtor®, do you really care about our situation?
Believe it or not, I get asked this question a lot. With all the noise that surrounds the real estate market, I can see how easily it could drown your thoughts. As well as why you might think a Realtor® only does the 3 p's when it comes to selling your home. Oh, you don't know the 3 p's that get talked about around real estate agents. Well, let me give you a good laugh. We have been told that we only Pray, Put the home on the MLS, and Put a sign in the yard. But with me, it is different.
I am able to guide you through the noise to a successful transaction that makes you the priority. Let's simplify the process…what if together, we made a blue print of which process would work best for your situation? Which process offers the right and best outcome for your and your family? Your situation, and ultimately your selling or buying experience might have a different motivation from the past clients we have served.
you might decide to go down the easy road and sell your home to an internet based company – I can help with that!
your situation might require that you sell the home AS IS, with no repairs – I can help with that!
you might decide to renovate to get the most money possible – I can help with that!
you might decide to sell your home the traditional way, in its current condition. Where repairs can be negotiated and both Buyer and Seller are playing nice in the sandbox – I can help with that!
or, what if you kept your home and turned it into a rental property? I can help guide you through that as well!
I am here to educate you to help you avoid money losing situations!
Preparing your home for the open market.
Why can't you just start showing us homes?
My response, does a surgeon cut right into your shoulder when you need rotator cuff surgery or do they have you get an MRI and assess the situation?  Now, I know that I am not performing surgery – although, I feel that with the right tools and YouTube, I may be able to 😊. There is a reason why a consultation is key.  First and foremost – am I the right agent for you?  Do you know how much you can afford?  There are so many imperative questions that need to be answered before we even step foot into a property.  Education is key!
What costs are associated with buying a home?
One of the first questions I get asked by my clients is – how much do I need to buy a home?  While this answer is different for every buyer, there are 5 key areas to what money is needed.  Contrary to what many people believe, there are monies needed beyond the down payment.  So lets get down to the nitty gritty and see where your money is directed throughout the purchasing process.
Down Payment.  Depending on your loan program, your down payment can range from o% to 20% of your purchase price, and beyond.  Your mortgage lender will be able to help you establish which program is best for your financial situation.
Closing Costs. In addition to your down payment, there are monies needed to obtain a loan and transfer title for your home purchase.  These closing costs are typically between 1% and 4% of the loan amount.  If you have an amazing Realtor® working for you, ahem, these costs can sometimes be negotiated into the sales contract and paid by the seller. 
Earnest Money. What is that?  Earnest money is a good faith measure that is deposited with the title company that was hired once you are under contract.  It proves to the seller(s) that you 'earnestly' want to buy their home.  The average amount of earnest money is about 1% of the purchase price.  This amount will be needed at the beginning of the transaction, yes your check will be cashed, and will go towards the balance of your closing costs, which are due at closing (not in addition to).
Once we are under contract, we will hire a home inspector to help determine if there are any serious problems with the home.  Home inspections can range from $300 to $1000, which will include a termite inspection.  If further inspections are required ie, well inspection, sewer scope, mold, radon, or an engineering cert, those will be an additional cost.  Always remember, you want to know everything that is going on with your home, so inspections, while they may be a hefty upfront cost– are well worth it in the long run.
When purchasing a home with a loan, the bank will require an appraisal to be ordered to verify the value of the home. It is paid for by the buyer at the time it is requested, with costs ranging from $400 to $700.
What should be our top priority when finding a home?
I find that there is not one but 3 things that must come together for you when purchasing your home. There is so much noise that surrounds the real estate market, we can see how easily it could drown your thoughts. Think of us as your life vest – we are here to help guide you through this noise and make a blueprint for what situation works best for you. This is where we will help you prioritize what is important for your home purchase.
Budget is number one on the list, as you must be comfortable financially when purchasing a home. Just because you are prequalified for X amount, does not mean that you must buy that much home. You are making your house payments, not the lender. Also in that budget, are you taking into account what you may need to get into the home and what items may need to be done to the home?
Features are second on that list of priorities. Let's take a moment to decide which features are requirement (location, bedroom count, garage, etc.) and which features are extras (fireplace, vaulted ceilings, walk-in closets, etc). Try not to get swept away by the pretty things. It is easy to get caught up in the excitement of a beautiful home loaded with amenities and modern features. It is essential that you select that truly meets all or most of your requirements first and foremost! Know yourself and your abilities. A house that needs a little work might be the ideal for someone who is experienced at repairs and enjoys the diy process. However, if you are working full time and want to enjoy the superb lifestyle that Phoenix has to offer, a fixer upper could turn into a time and money pit.
And third on that list, neighborhood. There are many factors to consider when selecting a neighborhood. Look for elements like access to major freeways, shopping, and schools. Listen for noise created by commerce, roads, railways, and public areas. Smell the air for adjacent commerce or agriculture. Check with local civic, police, fire, and school officials to find information about the neighborhood or ask a neighbor. Look at traffic patterns around the area during different times of the day and drive there to and from work. Does the community have an HOA and are you okay with abiding by the cc&r's?
How many homes should I look at before writing an offer?
This question is asked often and is simply the easiest to answer. There is no specific number of homes that you must look at before writing an offer. Don't feel that if you fall in love with the first home you see, that you are making a mistake.
And then on the flip side, if you are looking at home number 15, do not get discouraged that you are not falling in love with the homes you are seeing. We may need to revisit your search criteria and see if your priorities have changed once we have started the house search process. Trust me, it is easy to shift priorities once you have looked at a few homes.
What is the point of the home inspection?
Having your home inspected is critical to your long term home ownership success. Every home is going to have some issues. Even new homes have items on the inspection list – they are built by humans 🙂 It is the inspectors job to help you find them so that you understand what is going on with your home and what may need to be repaired prior to moving in. One thing I like to say is everything is fixable, it just depends on your comfort level.
In Arizona, the seller is not obligated to fix everything found during the inspection. This portion of the transaction is a negotiation hurdle. You may decide you don't like what is found during the inspection and cancel – that means it was not the right home. We may get a home with only 5 to 10 minor issues and you may ask the seller to repair a few of them. Great – we roll the dice, ask for the repair and see what the sellers response is. Or you may say, you know Jenn – I am good with the home as it is, these minor issues don't bother – let's keep moving forward. Just so you know, I love this response 🙂 Its rare, but I love it!
At any rate, the inspection is a time for you to learn about your new home and make sure you are comfortable taking on everything it brings with it!
What are the top items buyers ask for in negotiations?
One thing I like to educate sellers on, especially if they are selling in a price point that is heavily saturated with first time home buyers is, don't be surprised when buyers ask for certain concessions or incentives.  Be prepared by knowing the common things buyers ask for in the negotiation process. Know your options and consider if you are willing to reduce the price or help pay buyer closing costs.
Here are the top things asked for in negotiation…
37% Reduction in Price
30% Pay a portion of the buyer's closing costs
28% Purchase a one year home warranty
25% No concession or incentives
12% leave appliances or furniture
10% Provide repair allowance
9% consent to set closing date
Talk to me about the home warranty!
It is Murphy's Law that something will break during your first year, and possibly the first month of owning your home.  If it is a covered item under warranty, you call the home warranty provider and set up a contractor to come and fix it; you pay a deductible for this service.  They will either repair or replace the item.  Of course, it doesn't cover everything, nothing does, but it may give you peace of mind that some of the major components of your new to you home are covered.
Prices generally start around $400 and they have a term of one year. There are add on items, ie washer, dryer, refrigerator, pool coverage, etc. that can send the price upwards of $700.  28% of home buyers ask for the seller to purchase a one year home warranty in their offer, so it is good to be prepared.
Now that we have moved, what are some of the things we should be doing around the home?
I always love this question!  We own a home Jenn, now what?  Here is a great move in checklist that I find handy when first settling into your new home.
Change – change the locks! Don't assume the keys you're holding make up the only existing set.  Play it safe and have all of your locks changed. 
Reprogram – reprogram the garage door opener.  Again, it's better to be safe than sorry when it comes to security.  Most remotes have a reset button, but if you need more instructions, contact the manufacturer or google the manual.
Water – locate the water shut offs.  Find the main water shut-off, as well as all of the outside spigots.
Locate – locate the main circuit breaker.  Check it out and make sure you fully understand the labeling.  If the panel is not labeled, identify the circuits and make your own labels.  This will come in handy!
Test – test the smoke detectors and carbon monoxide detectors every month.  I also suggest to place a fire extinguisher on every level in the home an learn how to use it.
Figure – figure out a strategy to use if you are locked out of your home.  Hide a key? Leave a copy with the neighbor? Make sure to share your key solution with family members.
Read – read up on your HVAC system to feel confident about using the furnace and air conditioner.  No instructions? Go online to find them.  Make sure you stock up on your air filters and change them monthly.
Light Up – make a list of all your light bulbs, and buy energy efficient replacements.  Don't forget the halogen lights! Check all outdoor fixtures, too.
Plan – Make an exit plan for emergencies. Be sure even small children know how to call 911.
Where can I donate in AZ?
1. Chrysalis: One of the best ways to help victims of domestic violence in your community is through a financial or in-kind donation. Essential Needs Donation Drives: Encourage family, friends, neighbors, and social groups to host an Essential Needs Donation Drive to benefit our domestic violence shelter and transitional housing programs. Select items from our wish list or contact us at [email protected] to discuss options or click here to learn more: https://noabuse.org/ways-to-give/ 
2. St. Mary's Food Bank: In Arizona, food insecurity is a problem 2 million Arizonans are faced with every year. Nearly 30% of our neighbors are considered working poor, living on wages that barely cover housing and other basic necessities.
https://www.firstfoodbank.org/give/ 
3. Furniture + Appliance Donation Centers:

Updating your home with new furniture and/or appliances? Not sure what to do with your old ones? Consider helping those in need by donating your preloved items to one of the charities below. 
> The Salvation Army www.satruck.org
This organization helps people regain their health as they combat their addictions. It uses programs like group counseling, life skill development, holistic work therapy, and individual counseling to help people abandon their substance abuse habits. To donate furniture in Phoenix, you can call the Salvation army at 1-800-728-7825. You can also visit a drop-off location near you.
> St. Vincent de Paul www.svdpusa.org/Assistance-Services
If you want to donate furniture in Phoenix, the Society of St. Vincent de Paul can help. You can donate household items, certain kinds of furniture, and gently used clothes. The Society of St. Vincent de Paul no longer accepts tube televisions, wet merchandise, large desks, waterbeds, used carpets, or appliances that don't work.

> Habitat for Humanity www.habitat.org 
If you need your furniture picked up, Habitat's drivers are available from Monday to Friday from 9 a.m. to 3 p.m. To donate, you need to fill out the online form with information about your furniture items. Then, Habitat for Humanity in Phoenix will reach out to you to schedule a time and location.

4. Halo Animal Rescue https://www.halorescue.org/
They also have a donation center to allow their animal rescue service to remain in business. While a majority of their donations are coming from a couple of different sources, the HALO Thrift Boutique is interested in your items that can be put to good use. You can find out more information on how to donate your items by contacting them directly. Another option is going to their thrift store and dropping off your selected items in person. Due to the current COVID-19 situation, all persons entering the store must wear a mask. All of the items that are worth donating to their Thrift Boutique are often sold for 4 dollars per item. Their boutique is also run by friendly volunteers that are working with HALO. Each item sold is another day that helps animals find good homes and affordable medical care.
5. Arizona Humane Society https://www.azhumane.org/
What donations they take in: Books, mattresses and box springs, futons with or without mattresses, bed pillows, televisions, TV entertainment centers, electronics and appliances, office equipment and furniture, baby cribs, strollers, and car seats, propane and gas tanks with fuel, medical devices and equipment, building and construction equipment, pianos and organs, desks, dishwashers, and built-in microwaves
6. Big Brother Big Sister  https://www.bbbsaz.org/give/clothingdonation/ Pickup in Phoenix | 602-230-8900
While Big Bro/Sis has a significant impact on the lives of tons of kids their donation centers are scarce in the Valley. If you happen to live near one of their few centers, then this would be a great place to drop off old items.
7. Treasures 4 Teachers https://www.treasures4teachers.org/
T4T wants that "anyone who works closely with students to have access to a wide selection of materials, resources, and training that will enhance and expand the learning process." As such they are typically looking for school-related items, such as folders, binders, writing utensils, and paper. But they also need things like carpet squares, fabric, and other creative learning supplies (think empty ice cream tubs.) T4T has opened its own thrift store in Tempe where other donated items like household goods, clothes, and accessories can be purchased to raise money for more classroom supplies. 
8. AZ Junk, is a great choice for donation pickup! https://azjunkremoval.com/donating-unwanted-items-is-what-we-do/
AZ Junk is Phoenix's Simple Donation Solution We collect and donate tons of different items. Some of the most common items include refrigerators, stoves, dryers, furniture even clothes and toys. We all know you're never going to do anything with that old fridge. Or when you redecorate your bathroom we know you kept those old cabinets because they were just too nice to throw out. And when your aunt gave you a new couch you just didn't have the room for your old one anymore. For all of those parents out there, we know your kids have overflowing toy boxes full of things they have outgrown or just don't play with anymore. It's time to clear that junk away and make room for their new electric guitar amp. When you're ready AZ Junk has got you covered.
9. André House https://andrehouse.org/
Catholic ministry in Phoenix providing individualized services to those in need. They accept donations of new or gently used clothes, blankets, and related items at their Hospitality Center in downtown Phoenix, but they ask that donations only be dropped off on weekdays during the pandemic.
10. Assistance League https://www.assistanceleague.org/east-valley/
works to support various unmet needs in the community through programs such as Operation School Bell, which provides clothes and housing to kids and teens.  
11. Free The Girls https://freethegirls.org/locations
Free the Girls is a nonprofit that aims to help survivors of sex trafficking. They accept donations of gently used bras to provide "safe and sustainable income" for survivors. Free the Girls has multiple drop-off locations in the Valley for quantities of five bras or less. More information is available in their bra donating guide.
12. Helen's Hope Chest https://helenshopechest.org/
Helen's Hope Chest provides clothing, school supplies and other items to foster kids in a "consignment-like environment" at no cost. They are currently accepting donations at their Mesa location on Tuesdays and Thursdays from 9 a.m. to 3:30 p.m.
Local Trusted Vendors
Top places to eat in Phoenix
So, you officially moved to Phoenix, AZ! Congrats!
Now it's time to learn some of the best places to eat here, that we locals love!
Fabio on Fire
Black and White Cafe
Otro Cafe
Bobby Q
The Sicilian Butcher
A Touch of European Cafe
Chino Bandino
The Henry
Original Breakfast House
Dick's Hideaway
Chelsea's Kitchen
Phoenix City Grille
Pubblico Italian Eatery
Postino Central
The Parlor Pizzeria
Snooze, an A.M. Eatery
9 Tips for Maintaining Your Home
You officially moved into your new house! Congrats! I know how happy and excited you are! However, I know maintaining a house can feel like a lot sometimes, and we forget to do things that end up causing problems later on.
So, here are 8 tips for maintaining your home after moving in, which you can use as a checklist:
1. Take care of your lawn and garden (if you have them) often.
2. Maintain all of your appliances – make sure you clean them properly, and as often as it's required. You don't want your appliances to have stains.
3. Check your home systems every now and then to make sure everything's working properly.
4. Make sure your grout isn't moldy, and if it is, clean it or replace it.
5. De-clog your kitchen and bath drains monthly.
6. Make sure all of your windows are clean – dirty windows always make the house look unclean, even if it's not.
7. If your rug gets dirty easily, and you can't clean it yourself, get it professionally cleaned every now and then, to refresh it.
8. Maintain your roof. This is something many people forget to do, which leads to roof damage later on.
There are many more things you need to do to maintain a house, but these are just some of the main ones you shouldn't forget about!
Home Tour Process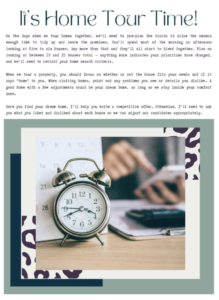 Download this resource here